Dr. La Keita Carter stops by to discuss her Psychology Today Article "What Type Of Apologizer Are You?". She discusses six types of apologies and how they are linked to emotional intelligence.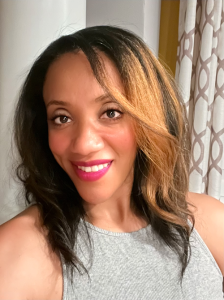 Dr. La Keita D. Carter, a licensed psychologist in Maryland, specializes in trauma, sexual wellness and relationships, addictions, women's issues, and cultural barriers to treatment. A native Baltimorean, Dr. Carter completed her bachelor's degree at Temple University (magna cum laude) as well as master's and doctoral degrees at Loyola University Maryland. Aside from being a licensed psychologist, she is a licensed clinical professional counselor (LCPC) and licensed clinical alcohol & drug counselor (LCADC) in Maryland.
Dr. Carter is the owner and CEO of the Institute for HEALing, LLC (iHEAL), an award-winning, nationally-accredited wellness agency based in Owings Mills, MD that specializes in the treatment of mental health disorders in children, teens, and adults. In addition to her practice, she teaches psychology at the undergraduate and graduate levels. Affectionately known as "Dr. C" by her patients and graduate students, she has authored three psychology textbooks and regularly writes articles related to sexual health, wellness, and relationships in her Psychology Today column, Inside Intimacy.
Over the past two years, she was recognized as one of Maryland's Most Admired CEOs, Maryland's Top 100 Women (in 2021 and 2023), and Top 40 under 40 by The Daily Record and a Leader in Diversity by The Baltimore Business Journal. She has been featured guest discussing mental health topics in media outlets like The Afro, Fox45, WBAL, New York Times, Washington Post, WJZ13, and Baltimore Sun.
With love for her community being a driving force behind her work, she volunteers her time as a member of the Board of Directors for Pro Bono Counseling as well as the Vice-President of the Board of Directors for the Black Mental Health Alliance, Inc. She holds the office of Secretary on the Board of Deacons at Providence Baptist Church as well as chaplain of one of the church's oldest clubs.
A 20+ year member of Alpha Kappa Alpha Sorority, Inc., our nation's oldest historically Black Greek-letter organization, Dr. Carter was initiated in Delta Mu chapter at Temple University. She is an active member in Rho Xi Omega chapter (Baltimore, MD) where she currently serves as the Mental Health Committee Chairman, Technology Committee Chairman, and External Awards Committee Co-chairman. She is married to Jarrett Carter, Sr., and they have four children who range in age from 5-13. She enjoys exercising (lifting and cycling), baking, cooking, traveling, home decorating, and watching movies. She reserves Sundays, her favorite day of the week, for faith, family, and selfcare, which includes baking her weekly loaf of bread. Click here for my headshot.
Check out Dr. Carter's Facebook HERE.
Check out her Instagram HERE
Her Psychology Today Blog HERE
Her Website HERE
Podcast: Play in new window | Download
Subscribe: Google Podcasts | RSS | More